Although smoking marijuana has no mortal risk, this consumption could cause some lung diseases in the long term, especially blended with tobacco.
Research is still scarce, so more and better studies are needed to deal with the effect of marijuana consumption in our body, especially lungs and brain.
What does marijuana effect depend on?
The most important factor deals with cannabis blended with tobacco; if not blended, the kind of consumption will be fundamental too. Obviously, consumption thru food, pills, cream or drops doesn't affect lungs, but smokers – pipes, joints, bongs, etc – can be affected – they say vaporization isn't that aggressive for lung health.
On the other hand, factors like consumption amount/frequency are fundamental too – more smoking, more possible lung diseases.
Smoke toxicity
With marijuana combustion, the generated smoke is bad for lung health because toxins and carcinogens are released, even when consumed alone – it's true that the smoke of marijuana combustion contains many of the same toxins, irritating substances and carcinogens as tobacco smoke.
Lungs and marijuana smoke
Even with scarce studies, it's true that marijuana can cause chronic bronchitis and harm the cellular covering of airways.
Smoking marijuana harms the first line of defense of lungs against infection, by killing the cells which help remove dust and germs, and it can cause the production and accumulation of more boogers in breathing system.
Anyway, most cases happen among frequent, usual smokers – casual smokers are scarcely affected by those consequences; with no official data, it's not possible to know if those problems happen more frequently among marijuana smokers or average population.
Other problems
Besides, smoking marijuana can harm the immune system and the body's ability to combat illnesses, especially for those with a weakened immune system because of immunosuppressant diseases such as HIV infection – anyway, AIDS development and lowering of white-blood-cell count don't seem to be affected.
Summing up, more research on marijuana effects in our body, and its benefits on different patients, is urgently needed – we wish this has been helpful and, if still in doubt, leave your comment.
Medical Reference Materials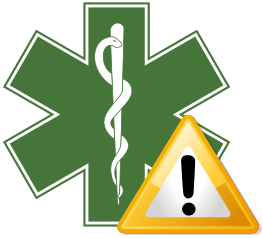 LEGAL MEDICAL ADVICE